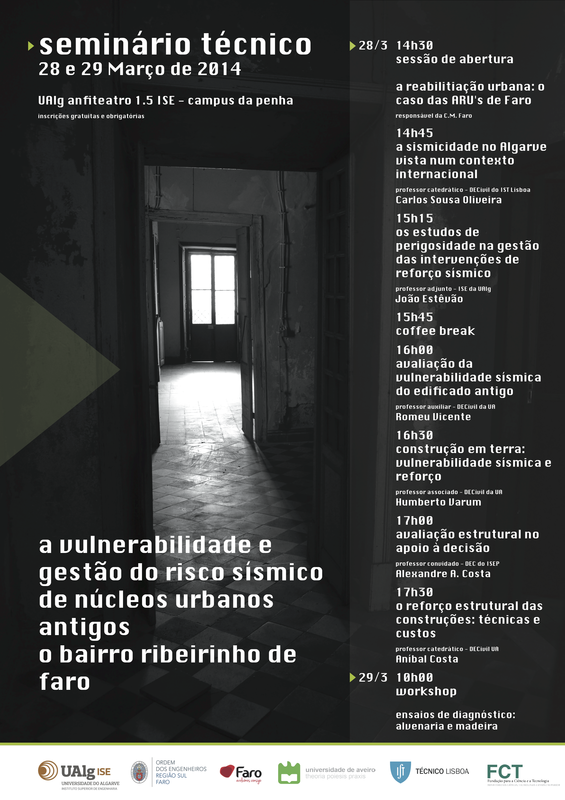 technical seminar | 28.03.2014
Our team would like to congratulate the University of Algarve School of Engineering
ISE
for the magnificent organisational work carried out with such professionalism during all the Seminar, making this event memorable for all the participants. We want also to thank all the institutions that had been, directly or indirectly, involved with the Seminar organisation, such as the
South Delegation of the Society of Chartered Engineers
and the
City Council of Faro
. Below, you can find the photo coverage of all event (seminar + workshop). Very soon we're going to provide here all the keynote speaker's presentations.
Thank you for having participated in this event.
Workshop | 29.03.2014

This workshop was combined with the seminar, attempting to provide to its participants some practical know-how regarding building's survey and inspection, resting on three distinct activities: inspection and diagnosis of the old Primary Teaching School of Faro; in-situ experimental test of a stone masonry wall using flat-jacks, in-situ experimental test of elements of wood beams using the Resistograph. All participants received a booklet with some additional information on each of these in-situ tests. The following photo coverage illustrates some views of the inspected building, as well as the experimental tests conducted by some members of our team.